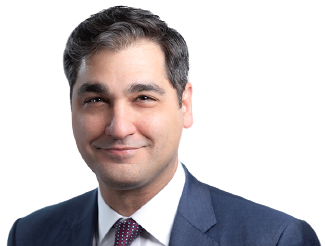 Partner
New York
+1.646.419.5634
atoossi@akrivislaw.com

Education:
J.D., Georgetown University Law Center
B.A., University of California, Los Angeles
Admissions
New York
California
Second Circuit Court of Appeals
Languages
Farsi (fluent)
Sam Amir Toossi is a partner in Akrivis Law Group's New York office and heads the firm's White Collar Defense and Commercial Litigation practice. Mr. Toossi has nearly 20 years of litigation experience as a commercial litigator, a state and federal prosecutor, and an in-house attorney at a major company.

An experienced trial practitioner, Mr. Toossi has tried 26 cases to verdict at the state and federal level, conducted dozens of pre-trial hearings, and argued 10 cases before state and federal appellate courts. He has also represented clients before a wide variety of U.S. regulators, including the Department of Justice, the Securities and Exchange Commission (SEC), the Commodity Futures Trading Commission (CFTC), the Financial Industry Regulatory Authority (FINRA), and the Public Company Accounting Oversight Board (PCAOB).
In the White Collar Defense practice area, Mr. Toossi represents individual and corporate clients in internal and government investigations and white collar criminal defense, with a particular focus advising on sanctions and export control matters, anti-money laundering (AML), bribery, and corruption matters. Drawing upon his background prosecuting cross-border matters as an AUSA, Mr. Toossi also advises clients on complex cross-border investigations.
For seven years, Mr. Toossi was an Assistant United States Attorney (AUSA) in the United States Attorney's Office for the Eastern District of New York (EDNY), where he served as deputy chief of the office's International Narcotics and Money Laundering Section. In 2015, he received the Attorney General's Award for Exceptional Service, which is the Department of Justice's highest award for employee performance. In 2014, he received the Federal Law Enforcement Foundation Federal Prosecutor Award, which is among the most prestigious law enforcement awards in the New York region.
Mr. Toossi's extensive civil litigation experience includes trials in state and federal courts, arbitrations and mediations, including representing clients in securities litigation, professional liability, patent and trademark infringement, commercial disputes and partnership disputes. Before becoming an AUSA, Mr. Toossi worked on significant securities, commercial, patent and employment litigation matters at Sullivan & Cromwell LLP. After he left the EDNY, he was a Director in PricewaterhouseCoopers' Litigation Group, overseeing both civil and regulatory matters, including securities litigation, data breach and privacy matters, employment, commercial disputes, partnership matters, and arbitration and mediation.
Earlier in his career, Mr. Toossi clerked for the Honorable Sterling Johnson, Jr. of the United States District Court for the Eastern District of New York and served as an Assistant District Attorney in New York City.
Mr. Toossi is currently an Adjunct Professor at Seton Hall University Law School, where he teaches Dispute Resolution Processes, a class that focuses on mediation and international and domestic arbitration.
RECENT SPEAKING ENGAGEMENTS AND PUBLICATIONS
Global Investigations Review, Practitioner's Guide to Global Investigations, "Parallel Civil Litigation, a US Perspective" (upcoming)
New York State Bar Association, "The Insider: Tips For Succeeding As Outside Counsel From A Former In-House Attorney" (upcoming)
WorldECR, "Cryptocurrency and sanctions evasion: meeting the challenge" (September 2022)
Global Investigations Review, Guide to Sanctions, "Representing Designated Persons: A US Lawyer's Perspective Feature" (July 2022) "Overview of Russian Sanctions," Practicing Law Institute (May 2022)