Farhad R. Alavi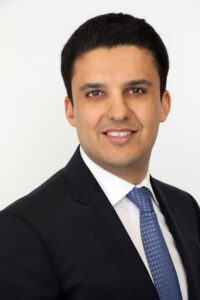 Managing Partner
Phone: 202.686.4859
Fax: 202.686.2877
falavi@akrivislaw.com
Education:
LL.M., Banking & Financial Law, Boston University School of Law, 2004
J.D., George Mason University School of Law, 2003
B.A., Economics and International Relations, Tufts University, 2000
Bar Admissions:
District of Columbia
Maryland
Court Admissions:
U.S. District Court for the District of Columbia
Languages:
Persian (Farsi)
Spanish
German (basic)
Arabic (basic)
Farhad Alavi is Managing Partner of Akrivis Law Group, PLLC. His practice focuses on complex trade issues centered on US national security, including U.S. sanctions, export controls, anti-corruption regulations, and compliance, as well as multinational transactions, investment, banking & finance matters.  Mr. Alavi's clients include major multinational companies around the world, small and medium businesses, and high net worth individuals.  He is also an Adjunct Professor of Law at Georgetown University Law Center.
Mr. Alavi previously practiced in several top-tier global law firms in Washington, most notably Baker & McKenzie LLP and Holland & Knight LLP, where he also had a dual, concurrent appointment in the firm's Abu Dhabi office.  At Baker & McKenzie, he practiced mainly in the fields of U.S. trade as well as oil & gas and project finance matters.
Mr. Alavi's vast experience spans international sanctions, export controls, customs, and the Foreign Corrupt Practices Act (FCPA).   He advises clients regularly before the U.S. Department of the Treasury's Office of Foreign Assets Control (OFAC) and U.S. Department of Commerce's Bureau of Industry & Security (BIS).  In addition to trade compliance, Mr. Alavi also advises clients on enforcement/defense matters related to U.S. sanctions and export controls.  These include criminal defense litigation matters related to violations of the International Emergency Economic Powers Act (IEEPA).  He has also provided expert opinion for litigation on issues relating to the application of U.S. sanctions laws.
Mr. Alavi is often quoted by and/or cited in top international and trade publications and news agencies around the world such as The New York Times, CNN Money, AFP, Bloomberg, Financial Times, The Wall Street Journal, Washington Post, and Georgetown Journal of International Law, and has appeared on the BBC, Al Jazeera English & Arabic, CGTN America, BBC Persian, Voice of America (VOA) Persian, and Al-Hurra, among others.  He also regularly lectures on trade compliance matters in the United States and abroad.
Mr. Alavi's corporate law experience spans a range of such areas such as international joint venture, distribution, and financing agreements.  He has particular experience in the energy, defense, finance, health care, food & beverage, and hospitality industries, and is especially well-versed in issues related to projects and dealings involving key emerging and frontier markets, including China, Latin America, and the MENA region, with emphasis on the Gulf Cooperation Council (GCC) states.
Born and raised in Virginia, Mr. Alavi maintains native fluency in Persian (Farsi), is fluent in Spanish, and has knowledge of German and Arabic.  He also maintains the U.S. Sanctions weblog.  Mr. Alavi has served multiple terms on the national Board of Directors of the Iranian-American Bar Association (IABA).  He is also a member of the International Bar Association (IBA) and the American Chamber of Commerce (AmCham) Abu Dhabi Chapter.
Recent Legal Engagements:
Successfully petitioned the removal of an Asian company from the BIS Entity List
Building a "ground-up" comprehensive trade compliance policy for a major U.S.-based international retailer
Advising a major Asian bank's Dubai and Singapore operations on complex OFAC compliance issues
Recent Speaking Engagements and Course Lectures:
Presented Sanctions and Export Controls – Developments, Challenges & Compliance Approaches, (co-panelist with Camilla Collett, Partner  & Ida Otzen, Associate, Gorrisen Federspiel), Copenhagen, Denmark, April 8, 2019
Presented U.S. Sanctions & Export Controls Update, American Chamber of Commerce (AmCham) Abu Dhabi chapter, Abu Dhabi, December 12, 2018
Presented U.S. Sanctions Update, promoted by the American Chamber of Commerce (AmCham) Abu Dhabi chapter, Dubai, October 18, 2017
Presented The Iran Sanctions Regime and Remaining Challenges: The US Perspective, (co-panelist with Camilla Collett, Partner, Gorrisen Federspiel), University of Copenhagen Faculty of Law, Copenhagen, Denmark, April 3, 2017
Panelist, Managing Anti-Bribery Risks and Maintaining Internal Controls for Non-US Subsidiaries without Violating US Sanctions, Anti-Corruption Compliance in High Risk Markets, American Conference Institute, Washington, July 21, 2016
Presented Sanctions Update, American Chamber of Commerce (AmCham) Abu Dhabi chapter, Abu Dhabi, May 22, 2016
Presented Roundtable Discussion on the U.S. Sanctions Regime and Iranian Political Economy, The Delma Institute, Abu Dhabi, May 11, 2016
Panelist, Fireside Chat: Risks and Rewards of Doing Business in Post-Deal Iran, Harvard Iranian Weekend, Harvard University, Cambridge, April 2, 2016
Presented Iran Sanctions: Impact on U.S. and International Transactions Post-Nuclear Deal, Seminar Co-Hosted with Al Tamimi & Co. (represented by Andrew Hudson, Financial Crime practice), Dubai, February 24, 2016
Panelist, Dealing with State Monopolies and Inhisarat, ACI FCPA Bootcamp, Houston, January 26, 2016.
Presented Sharia-Compliant Legal Structures in International Investments, University of Dubai, May 10, 2015
Co-Presented Economic Sanctions on Iran and Anti-Corruption Regulations / U.S. and UAE Perspectives, Seminar Co-Hosted with Al Tamimi & Co. (represented by Ibtissam Lassoued, Partner, Financial Crime practice), Abu Dhabi, February 10, 2015
Presented Economic Sanctions Against Iran: The U.S. Perspective, Seminar Co-Hosted with Al Tamimi & Co. (represented by I. Lassoued, Partner, Dubai, February 25, 2014